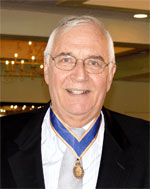 It has been an honor and pleasure to serve in 2004 as President of the Sons of the Revolution in the State of California. This has been a year of tremendous accomplishment.
Our Society was founded to venerate those who served in the Revolutionary War, to keep alive the traditions engendered during and as a result of that conflict, to maintain the patriotic traditions of the United States of America, and to keep ever fresh the memory of individuals who served in that war through genealogical research into the heritage of those eligible for membership in the Society. To facilitate this, for 111 years the Society has maintained a genealogical research library, open to members and the public at no charge, as a patriotic and public service.
Through the efforts of the finest leadership team assembled in decades, the accomplishments achieved by the Society this past year will have significant benefits for years into the future.
We completed a catalog modernization and collection organization project, bound many years of journals and periodicals of varying titles, expanded our book collection by several thousand titles, added shelving, computers, and more.
The SR Library became a member of OCLC, a worldwide library cooperative whose WorldCat, which includes a listing of our holdings, is used by 50,540 libraries in 84 countries. The Friends of the Library held its first event. These are among the exciting accomplishments that position the library well for the next generation. Our membership is growing, donations from the public are rising, and expenses remain under control. The Society, a §501(c)(3) non-profit, is debt free.
The gentlemen with whom I have served on the Board this past year are the finest I have had the pleasure of working with since I was first elected to the Board of Directors in 1967. Each has given of himself in service to the Society, and we are grateful. With our accomplishments in place, and the torch being passed to the next administration, it is my fervent hope that you will renew, and perhaps expand, your support and involvement of our worthwhile cause.
Charles B. Witt, Jr. MD