On February 22, 2004, commemorating the 272ND anniversary of the birth of George Washington, the newly formed "Friends of the Library" hosted a very special tribute in honor of our first president.
This magnificent affair, organized by Friends Co-Chairs Elizabeth White Hay and Colette Witt, was a resounding success with over 100 persons in attendance.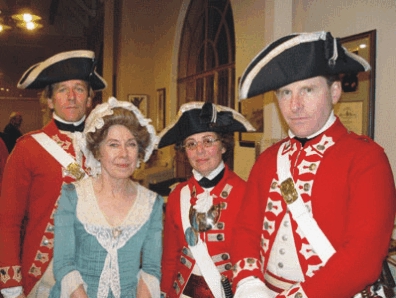 Under the leadership of SR Board member Brett A. Landis, an Honor Guard in period dress as Gen. Cornwallis' 33rd Regiment of Foot greeted guests at the door with a souvenir program.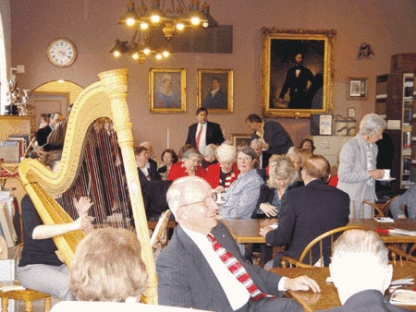 The festive mood was highlighted by the sound of beautiful colonial music played by harpist Monique McDuffin. Attendees enjoyed a fine assortment of "finger food" and beverages while awaiting the arrival of Abigail Adams, portrayed in period dress by actress Judith Helton. During a twenty-minute performance, Ms. Helton transported all to the time of the American Revolution relaying tidbits of life and personalities of that era.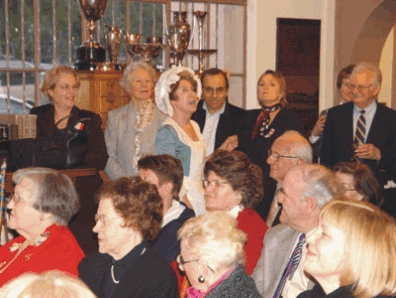 Following the presentation, guests were treated to George Washington's favorite drink, Fish House Punch, a colonial concoction of Philadelphia's State in Schuylkill gentleman's club. A few hours of mutual friendship and conviviality was enjoyed by all.

During its first year, the Friends of the Library contributed $4,650 in cash to the Library.
FRIENDS OF THE LIBRARY
Board of Directors
Elizabeth Hay, Co-Chair Colette Witt, Co-Chair

Douglas R. Boyd, Sr., Esq.
Mr. and Mrs. Richard H. Breithaupt, Sr.
Mr. Richard H. Breithaupt, Jr.
Mr. Darell C. Brown
Mr. Merrick Browne
Mrs. Bill Conti
Mrs. Leo Gordon
Mr. and Mrs. Harold Hattier, Jr.
Mrs. Elizabeth Hay
Judge and Mrs. William W. Huss, Jr.
Mr. John R. Justice
Mrs. Samuel Mann
Mr. and Mrs. William F. Price, Jr.
Mrs. Sylvia Shorey
Dr. and Mrs. Charles B. Witt, Jr. MD