The California Society, Sons of the Revolution has had among its members many individuals of distinguished background. For a good many years, the Society held the distinction of being the only State Society in the entire Order with a member who was a "real" son of a Revolutionary War soldier. He was George Washington Peachy, California SR Member #32. The California Society later added four additional Real Sons.
Biographies of these and many other distinguished members of the California Society are included in the history of the Society, published on its centennial in 1994. More information on "Centennial Register 1893-1993" is available by clicking the link at the bottom of the navigation panel to the left of this text..
GEORGE WASHINGTON PEACHY Mr. Peachy was born May 18, 1829 at Mason County, KY, the son of Benjamin Peachy and his second wife, the former Elizabeth Broadus.
Benjamin Peachy was born on Dec 26, 1746 and died in 1835 at Washington, Davis County, IN. His first enlistment was in the Spring of 1777 when he was assigned to the NJ Regiment commanded by Col. Israel Shreve. Subsequently, he served in the 1st Battalion, Cumberland Co., NJ Militia and then the NJ Line where he remained until the close of the war.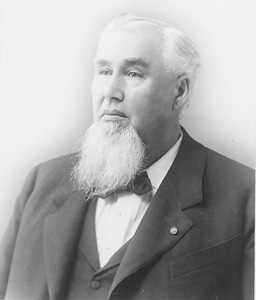 George Washington Peachy
George Peachy's father was engaged in the battles of Elizabethtown, Monmouth, Yorktown and in numerous skirmishes. His first wife, Miss Patterson, the daughter of the owner of the town site of Patterson, NJ, died after the family moved to Mason Co., KY.
After the death of Benjamin, his widow went to live with relatives in Ohio, leaving son George at Princeton, Indiana with James Finney, with whom he remained until the age of thirteen, learning the trade of harness and saddle making. In later years, George Peachy engaged in harness and saddle making and the leather business in Louisville, KY and New Orleans before settling in Evansville, Indiana where he married on Oct 16, 1849. On March 24, 1853 with his wife and two children, George started overland for California. The journey consumed six months, lacking eleven days during which his family suffering all of the hardships and perils of such a migration.
Peachy settled in Stockton and had also lived in Sacramento, Marysville and Susanville. On April 8, 1881 he moved to Los Angeles where he carried on an extensive manufacturing business of saddles, harnesses and leather goods. Standing six feet six inches, he weighed 320 pounds. In appearance he was a dignified, handsome elderly gentleman of a robust constitution. George Peachy was a life member of the Society, being admitted as SR Member #32 in 1894. He died on August 24, 1910.
Subsequently, four other "real" sons were members of the California Society.
LEWIS PATRICK PHILLIPS Lewis Patrick Phillips became a member of the Society in 1911, SR Member #131. Phillips' father was soldier John Phillips, who served as a private in South Carolina during the Revolution.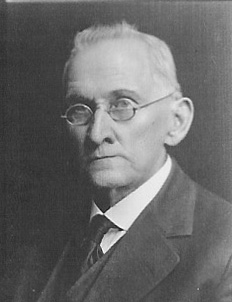 Lewis Patrick Phillips
For a time, many thought Lewis Phillips to be the last surviving "real" son who was a member of the Society and, indeed, perhaps the last surviving son of a Revolutionary soldier in the entire nation when Francis Lemmon passed away on March 19, 1921.
FRANCIS MARION LEMMON Francis Marion Lemmon was admitted as a life member on October 4, 1913, SR Member #201, proving his eligibility in the right of his father, James Lemmon, his grandfather, Robert Lemmon, and his mother's father, Charles Rawlins. James Lemmon was born about 1763 in Hagerstown, Maryland, and when he was about fourteen years old served as a messenger for officers of the Continental Army, often being entrusted with orders from General Washington to his father, Captain Robert Lemmon.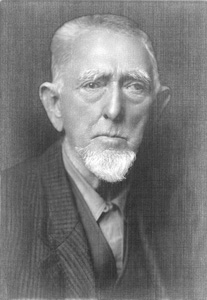 Francis Marion Lemmon
Lemmon later enlisted in active service under the command of General Francis Marion, the famed "Swamp Fox", for whom he named his son. His name appears in a list of Virginia troops of the Continental Line. Robert Lemmon, father of James, was born in Ireland and emigrated to Maryland about 1760. On February 4, 1777, he was commissioned Captain of a company of Maryland Militia.
DAVID DeWITT CLINTON PUTNAM David DeWitt Clinton Putnam became a member in 1917, SR Member #381, by right of descent from his father, David Cornelius Putnam and his grandfather, Cornelius Phillips, both having served in the Revolution. Charles Rawlins was an infantry soldier of the Virginia Continental Line.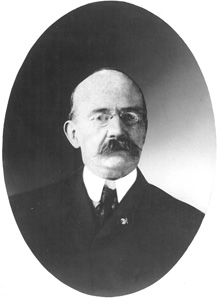 David DeWitt Clinton Putnam
With the death of Lewis Patrick Phillips, many thought that the last "Real Son" had died. Unknown by some at the time, however, in 1937 the California Society bestowed honorary membership upon William Constant Wheeler, a "Real Son", who was living at the time in Vermont.
WILLIAM CONSTANT WHEELER William Constant Wheeler was the last living "real" son of a Revolutionary soldier. His father, Comfort Wheeler, was born in Rehoboth, Massachusetts on March 13, 1766 and died April 29, 1855, aged eighty-nine years, in Woodbury, Vermont. In 1780, then being fourteen years of age, Comfort Wheeler made the first of three enlistments in the Revolutionary forces, the third and last being effected in 1782 when he was just sixteen. It was said that young Comfort Wheeler stood on the stump of a tree while enlisting so that he might appear taller than he was. After this last enlistment he was detailed as Orderly to General Nathaniel Greene. On July 3, 1840, at the age of seventy-four, Comfort Wheeler married his second wife, Permelia Ainsworth, thirty-four years his junior, and to them was born a son, William Constant Wheeler, on December 14, 1847.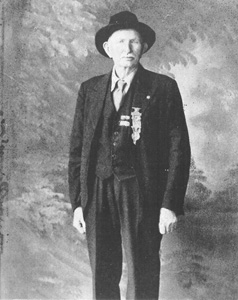 William Constant Wheeler
Though a resident of Vermont, he became a member of the California Society in 1937, SR Member #1959, through the efforts of his close friend, Benjamin Franklin Bledsoe, former State Society President and General President of the Sons of the Revolution. In a note to Judge Bledsoe and the Society, William Wheeler wrote: "I am sure proud to be one of the boys." The General Society presented Wheeler with a membership certificate in a special program arranged by William T. Alstyne, then President of the New York Society, at the Wheeler home in Woodbury on September 12, 1939. The formal presentation was made by Vermont Governor George D. Aiken. Wheeler died February 1, 1941.
©2005, 2018 Sons of the Revolution in the State of California, Inc.