Orra Eugene Monnette
(04-12-1873 – 02-24-1936)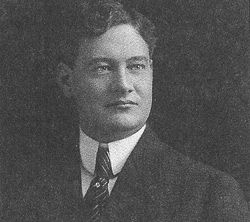 Orra Eugene Monnette was an attorney, author and banker. Monnette was also the Founder of the Bank of America, Los Angeles, but his contribution to the organization is often overlooked in its corporate history. He was Organizer and the first President, Bank of America, NT & SA, 1928.

Orra E. Monnette was born in southern Crawford County, Ohio to Mervin Jeremiah Monnette and Olive Hull Monnette. His family were staunch members of the Methodist Episcopal Church (aka "M.E. Church") which is now part of the modern United Methodist Church. Monnette attended Ohio Wesleyan University in Delaware, Ohio. A first cousin of his grandfather – Mary Monnett Bain – had donated a sizable sum to the college in the 1850's which resulted in the building of Monnett Hall. Graduating from Ohio Wesleyan University in 1895, Monnette was admitted to the Ohio bar in 1896.

Monnette married Carrie Lucile Janeway in 1895. After practicing law in Ohio for several years, he moved to Los Angeles in 1907 where he set up his own law practice after being admitted to the California Bar in 1909.

While Monnette was trained as an attorney, his father's foray into mining in 1904-1906 changed his career path. In 1906, the elder Monnette struck a significant gold vein in the previously thought tapped out Mohawk Mine, Tonapah, Nevada (near Goldfield, Nevada). The strike, known as the Monnette-Hayes Lease set records for the value of the ore shipped in 1906. Eventually, Mervin Monnette realized a $5,000,000 profit on the Mohawk, which he assigned to his son for investment.

With his father's mining proceeds, Orra Monnette purchased the controlling interest in the American National Bank of Los Angeles (ANB). In 1909, ANB was merged into Citizens Trust and Savings Bank of Los Angeles. In 1911, Monnette purchased the Broadway Bank and Trust Company, which when merged with the family's other holdings formed the Citizens Bank and Trust Company, of which Orra E. Monnette was Chairman of the Board.

In 1923, Citizens Bank and Trust Company was renamed Bank of America, Los Angeles (B of A). Monnette's intention was to build capital for national expansion; however in 1928 Monnette was approached by Amadeo Giannini, founder of the Bank of Italy, (San Francisco, California) who was interested in pursuing a merger with B of A. Monnette, who was growing concerned about the stock and financial markets, accepted Giannini's offer of a merger. The resulting Bank of America National Trust and Savings Association emerged prior to the stock market crash of 1929. Initially, Monnette was named President and Co-chairman of the new Bank of America, and was a Director of the Bank. During the early 1930's, with his interests elsewhere, Monnette turned over his daily operating duties and was made a Vice President of the bank, while retaining his Board seat.

Orra Monnette also founded Lincoln Mortgage Company of California. Lincoln was not part of the Bank of America merger and he retained a controlling interest in the company and continued to serve as its President until his death.

Orra Monette was member of the Sons of the Revolution in the State of California, Member #110, elected Sep 11, 1907. His father, Mervin Jeremiah Monnette, became a member the following year. A fine genealogist, Orra researched and documented his direct descent from seventeen men who fought in the American Revolution. He served as President of the Sons of the Revolution in the State of California, 1917-1918. He was elected General Historian, General Society Sons of the Revolution in 1918.

He served as Governor, California Society of Colonial Wars, 1915-1916 and Deputy Governor-General, Society of Colonial Wars, 1916-1920. Member, Mayflower Descendants; Huguenot Society; S.A.R.; Order of Washington; Society War of 1812; Phi Beta Kappa. General Historian, General Society, Sons of the Revolution. Masonic fraternity; 32° Scottish Rite; Shriners. National President, Phi Kappa Psi, 1911-1912. Member, Jonathan, Union League, Los Angeles Athletic, City, Scribes, Uplifters, Los Angeles Country, Southern California Athletic and Country clubs.

Throughout his life in Los Angeles, California, Orra Monnette served on numerous commissions and boards charged with public projects and the operation of various public organizations. Monnette was appointed in 1913 to the Los Angeles Municipal Annexation Commission; Los Angeles City Planning Commission in 1920 and was made a member of the Board of Freeholders which framed Los Angeles' City Charter between 1923-1924.

In 1914, Monnette was appointed to the Los Angeles Public Library Board, and reappointed every five years until his death in 1936. He was elected President of the Library Board in 1916, and retained that office until his death. During the twenty-three years of his tenure, Monnette championed three major library bond packages which were supported by the citizens of Los Angeles, California. The bond packages allowed the city to build forty-eight (48) branches throughout the Los Angeles area as well as its landmark art deco Main Library in Downtown Los Angeles.

Orra E. Monnette died in Los Angeles California in 1936. His death was noted in the Los Angeles City Council minutes following a passage of resolution in his honor. In addition to a placement of a bronze bust of Monnette in the lobby of the Main Library, his complete private papers were given to the Los Angeles Public Library System and are accessible in the manuscript division. A Street in Koreatown "Monnette Place" is named in his honor.