February, 1997
Page Two
JUSTICE JOHN A. ARGUELLES
ADMITTED TO MEMBERSHIP
The Board of Directors of the Society is pleased to announce the election to membership of The Hon. John A. Arguelles. This distinguished jurist served with the United States Navy in World War II. He earned a Bachelor's Degree in Economics from UCLA in 1950, and a Juris Doctorate from the UCLA School of Law in 1954. receiving an initial appointment from Gov. Edmund G. Brown, he served as a Judge of the Municipal Court from 1963 to 1969. In 1969, Gov. Ronald Reagan appointed him to the Superior Court bench, where he served until 1984. From 1984 to 1987 he served as a Justice of the California Court of Appeal, having been put forward by Gov. George Deukmejian. In 1987, Gov. Deukmejian appointed him as a Justice of the California Supreme Court. Justice Arguelles served until 1989, when he retired from the high court. Justice Arguelles was admitted to membership by right of his third great grandfather, Flud (Flood) Mitchell, who served as a mounted ranger during the Revolutionary War.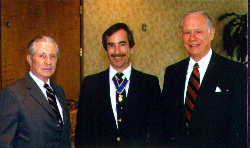 Pictured: At the Society's Annual Membership Luncheon is the Society's Senior Vice President, The Hon. Alexander R. Early, III, a Judge of the Superior Court (Ret.); Society President Emeritus Richard H. Breithaupt, Jr.; and The Hon. John A. Arguelles. Justice Arguelles was presented his membership diploma at the luncheon.
RICHARD H. BREITHAUPT, JR.
HONORED
Members and friends gathered at the Society's 104th Annual Membership Luncheon held this past January 11, 1997 at the Oakmont Country Club in Glendale, to pay honor to retiring President Richard H. Breithaupt, Jr., who delivered a well-received State of the Society address. Well known in the society for his monumental 1,321 page Centennial History of the Society published in 1994, Mr. Breithaupt's other accomplishments include: major renovation of the Society's Headquarters and Library building, extensive expansion of the Library's book collection, acquisition of a state-of-the-art computer system, and a dramatic increase in membership. Lauding President Breithaupt for his efforts, newly elected President, the Hon. William W. Huss, Jr., presented him with the Society's Distinguished Service Award, a diploma granting him the title of President Emeritus and an inscribed Past President's breast star which on its reverse read, in part, "in recognition of his distinguished service by a grateful society".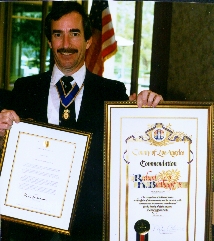 Pictured above: President Emeritus Richard H. Breithaupt, Jr., holding two additional honors he received. One is a very handsome illuminated proclamation presented by the Los Angeles County Board of Supervisors commending Mr. Breithaupt for his service to the community. The other is a January 11, 1997 letter from California Governor Pete Wilson which reads in part, "Gayle and I are delighted to offer our sincerest congratulations and thanks to you for the significant leadership role you have played as President of the Sons of the Revolution in the state of California. . . .I applaud your important work that has benefitted the lives of many people. Your efforts reflect the attitude of civic involvement that has made the Golden State what it is today, and I hope you will continue your efforts to make a difference in your community. Please accept my best wishes for every future fulfillment and success."
WILLIAM W. HUSS TAKES OFFICE
AS 58th PRESIDENT
The Hon. William W. Huss, Jr. was elected and installed as the Society's 58th President at the well attended Annual Membership Luncheon held on January 11, 1997 at the Oakmont Country Club in Glendale, California. Accepting the gavel of office and congratulations from retiring President Richard H. Breithaupt, Jr., Bill first affiliated with the Society in 1991 and has actively participated as a member of the Board of Directors since 1993. He served as 2nd Vice President in 1994 and as 1st Vice President in 1995 and 1996. Bill brings to the office of President many years of distinguished judicial and military experience. He earned a Bachelor of Science Degree in Finance (1962) from the Business School of the University of Southern California and a Juris Doctorate (1965) from the USC School of Law. From 1965 to 1989 Bill was in private practice as an attorney and from 1979 to 1989 Senior Partner with Huss, Acker and Bailey, From 1989 through 1995 he served on the bench of the Los Angeles County Superior Court. In 1996 he became President of IVAMS, Inc., an arbitration and mediation service. Judge Huss served on active duty with the United States Navy Reserve from 1951 to 1955, and from 1965 to 1989 he performed duty with the U. S. Navy Reserve, retiring as a Captain. In 1990 he was commissioned a Colonel in the California State Military Reserve and serves with the Center for Military History. Seen with Bill at the Society's luncheons is his lovely wife, Marlene, a pediatrician. She also presently serves as a Captain in the Medical Corps of the United States Navy Reserve.