Spring, 1997
"SEMPER FIDELIS"
Since its report published in the Winter, 1996 edition, late last year the California Society added to membership two distinguished Americans. General Charles Chandler Krulak, 31st Commandant of the United States Marine Corps, was admitted to membership in December, 1996, in right of his 5th great grandfather, Ensign James Gilmore, who served with distinction in the New Hampshire militia during the Revolutionary War. He was admitted to membership as of December 25, 1996.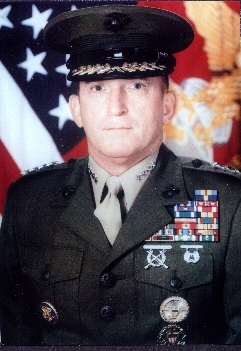 General Charles Chandler Krulak
Commandant of the United States Marine Corps
"Having been taught by my parents the importance of defending our nation's freedoms, it is gratifying to find that this ethos was present in our family as early as the days of the American Revolution. I send my best wishes and warmest regards."
The Commandant, a 1964 graduate of the U.S. Naval Academy, earned an M.S. degree from George Washington University in 1973. Throughout his military career, he has held a variety of command and staff positions with increasing responsibilities. Some of these have included command of a platoon and two rifle companies during two tours of duty in Vietnam, and command of the 3rd Battalion of 3rd Marines (1983-85). He was assigned duty as Deputy Director of the White House Military Office in September 1987. In 1989, he earned the rank of Brigadier General and was assigned duties as Commanding General, 10th Marine Expeditionary Brigade/Commanding General, 6th Marine Expeditionary Brigade, Fleet Marine Force, Atlantic, and served in this capacity until 1991. Following that was duty as Assistant Deputy Chief of Staff for Manpower and Reserve Affairs, Headquarters Marine Corps.
In March of 1992, General Krulak was advanced to the rank of Major General. He was given command of the Marine Corps Combat Development Command in August of 1992 and then in September of that year he was promoted to Lieutenant General. On July 22, 1994, he was assigned as Commander of Marine Forces Pacific/Commanding General, Fleet Marine Forces Pacific, headquartered at Camp H. M. Smith, Hawaii. General Krulak was promoted to the four star rank of full General on June 29, 1995, and assumed duties as the 31st Commandant of the United States Marine Corps on June 30, 1995.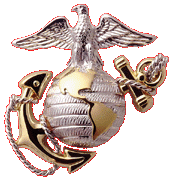 His many decorations and medals include: the Defense Distinguished Service Medal, the Distinguished Service Medal, the Silver Star Medal, the Bronze Star Medal with Combat "V" and two gold stars, the Purple Heart with gold star, the Meritorious Service Medal, the Navy Commendation Medal, the Combat Action Ribbon, the Vietnam Service Medal with silver star and two bronze stars, the Southwest Asia Service Medal with two bronze stars, Republic of Vietnam Cross of Gallantry, and the Kuwait Liberation Medal, among others.
The Commandant's father, an equally famous Marine, is Lieutenant General Victor H. Krulak, USMC, Ret. He earned the Navy Cross, our nation's second highest decoration for valor, in very hard fighting during the bleak days of World War II. The Commandant's mother, Mrs. Victor H. Krulak, a long-time member of the DAR with an impressive record of service to the community, is the daughter of Captain William D. Chandler, Jr., USN, Ret., who also earned the Navy Cross in World War II.